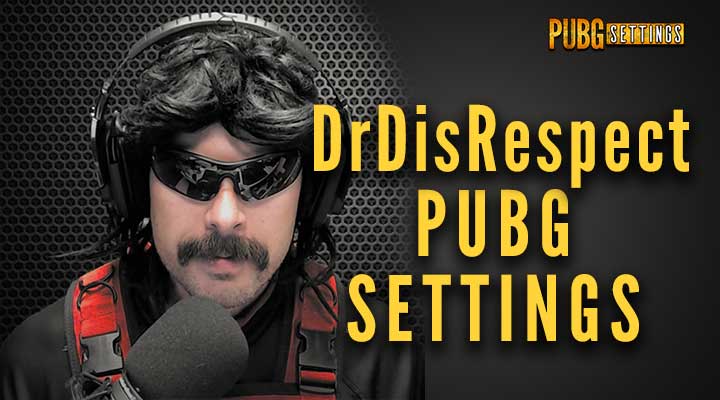 DrDisRespect is one of the most popular streamers on Twitch. With his signature mustache and mullet, he's created a character that's really entertaining to watch. And he also often plays with other popular streamers, making his channel a must-follow.
Let's take a look at his settings:
DrDisRespect PUBG Settings
DrDisRespect Graphics Settings
Resolution: 1920 X 1080
FpsCameraFov: 103
Brightness: 75
Anti-Aliasing: VERY LOW
Post-Processing: VERY LOW
Shadows: VERY LOW
Texture: MEDIUM
Effects: LOW
Foliage: VERY LOW
View Distance: MEDIUM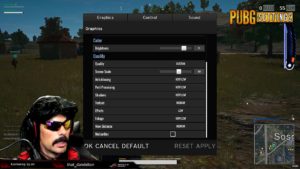 DrDisRespect Mouse Sensitivity Settings
Invert Mouse: NO
General Sensitivity: 55
VehicleDriver Sensitivity: 50
Targeting Sensitivity: 45
Scoping Sensitivity: 46
Scope2X Sensitivity: 47
Scope4X Sensitivity: 48
Scope8X Sensitivity: 49
Scope15X Sensitivity: 50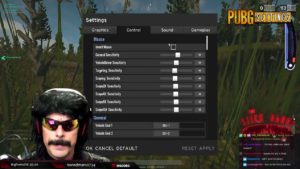 DrDisRespect uses a mouse DPI setting of 400 and a Polling Rate of 500.

Does DrDisRespect Use ReShade?
Nope, DrDisRespect plays PUBG without ReShade, instead, he uses the Nvidia Digital Vibrance slider to make his colors pop.
DrDisRespect Setup and Gear
Headphones: Turtle Beach Stealth 600 Turtle Beach Elite Atlas Aero
Mouse: Zowie ZA11 Razer Viper Ultralight
Keyboard: Corsair K70 Razer Huntsman Elite Gaming Keyboard
Monitor: ASUS ROG Swift PG27AQ 27" 4K/UHD IPS G-SYNC Gaming Monitor ASUS ROG Swift PG258Q 24.5" Monitor
Microphone: Shure SM7B Cardioid Mic
Chair: MAXNOMIC Commander S
DrDisRespect PC Specs
CPU: Intel Core i7-6700K Processor 4.2 GHz (Overclocked to 4.6 GHz)
GPU: 2x NVIDIA GeForce GTX1080 8GB
Motherboard: Z170 PRO GAMING/AURA
RAM: Corsair Dominator 64 GB DDR4 at 2800MHz
Hard Drive: 2x 512GB M.2 PCIE SSD (RAID 0)
Case: ROG GT51CA