Grimmmz is one of the best streamers out there playing PUBG. He has racked up an insane amount of chicken dinners, and it's always a pleasure to watch him destroy the other players.
Let's take a look at his settings:
Grimmmz PUBG Settings
Grimmmz Graphics Settings
Resolution: 1920 X 1080
FpsCameraFov: 80
Brightness: 53
Anti-Aliasing: LOW
Post-Processing: LOW
Shadows: VERY LOW
Texture: LOW
Effects: VERY LOW
Foliage: VERY LOW
View Distance: LOW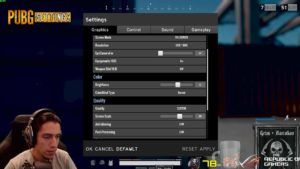 Grimmmz Mouse Sensitivity Settings
Invert Mouse: NO
General Sensitivity: 61
VehicleDriver Sensitivity: 62
Targeting Sensitivity: 55
Scoping Sensitivity: 55
Scope2X Sensitivity: 50
Scope4X Sensitivity: 55
Scope8X Sensitivity: 45
Scope15X Sensitivity: 45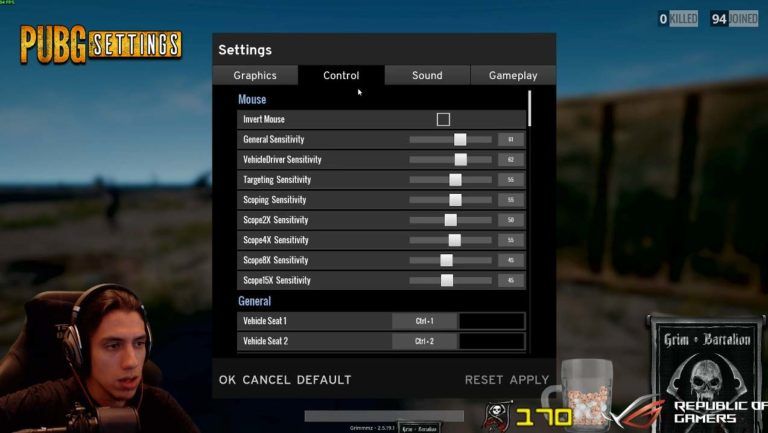 Grimmmz uses a mouse DPI setting of 650 and a Polling Rate of 500.

Does Grimmmz Use ReShade?
No, Grimmmz doesn't use ReShade. He runs the game vanilla.
Grimmmz' Setup and Gear
Headphones: Sennheiser HD 700 (with these Red Replacement Cables)
Mouse: Logitech G502 Proteus Spectrum
Keyboard: Razer Black Widow Ultimate
Monitor: Asus PG258Q
Grimmmz PC Specs
CPU: Intel Core i7-7700 3.6GHz
GPU: GeForce GTX 1080 8GB
Hard Drive: OCZ Vector 180 Series 480GB
Case: Asus Strix GD30CI