UPDATE

– PUBG map selection has been removed by Bluehole. And unfortunately "PUBG Map Chooser" doesn't work anymore. THERE IS CURRENTLY NO WAY TO CHOOSE YOUR PUBG MAP.

In PlayerUnkown's Battlegrounds there are two maps that you can play, Erangel (the original map) and Miramar (the new desert map).

While Bluehole has been hinting that they're going to implement a map selection mechanism in the future, what map you're going to end up playing is still down to chance.

So, that begs the question, in the meanwhile..
How to Choose the Map in PUBG?
A Reddit user by the nickname CodeFive has created a little utility that does something very simple: it renames the files for the map that you don't want to play, so that the game will automatically skip the games where that map is chosen.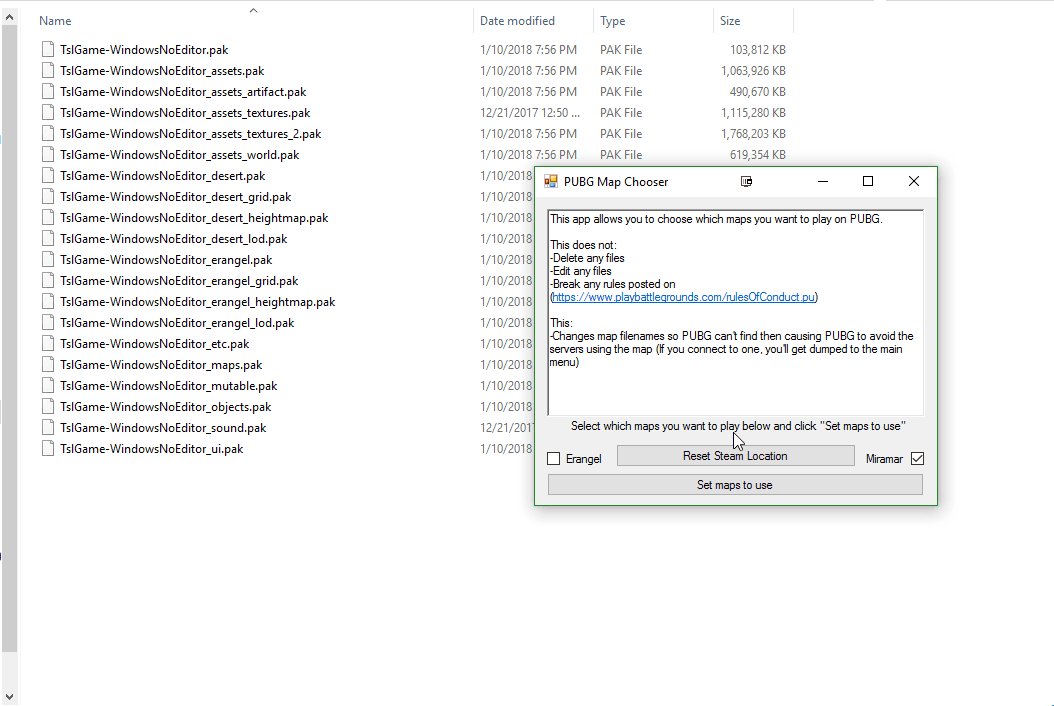 To use this utility, simply select the map you want to play, click on "Set maps to use" and then start your game. Voilà, now you'll play only your preferred map.
You can download the application from GitHub by clicking the button below.
Bluehole's PUBG Map Selection Mechanism
A new, actual map selection mechanism is coming to PUBG soon.
The map selection system is going to work in the following way:
You can select the maps you want to play with a click.
If you don't want to play a map, simply unselect it.
If you've selected more than one map, the game will randomly pick one for you each time you start a match.
And here is a mock-up of the UI (note that the final implementation of the system is likely to be slightly different).
Click to enlarge.