Crouch jumping in PUBG is very powerful: it allows you to reach places you couldn't normally get to with a simple jump, but—more importantly—it lets you jump through windows (that's why this is also called a "window jump key bind")
Some people think it's unfair to have the crouch jump key bind .. but this will all be outdated.
Because not many new players are aware of this, some people think it's unfair to have the crouch jump key bind in PUBG, but honestly, it's something that a lot of people are catching up on, and also this will all be outdated once the new vaulting patch is live.
How to Bind Crouch Jump in PUBG
UPDATE Sep 23:
Seems like the only way to crouch jump is doing it manually. It's not hard, read further down to see how to do it.
UPDATE Sep 19: It's still possible to make a crouch jump keybind by editing the GameUserSettings.ini file. Check out the updated Game Config section below. Thanks to Turk for the heads up in the comments!
UPDATE Sep 15: They have now patched both of the following methods, so it's impossible to have crouch and jump bound to the same key. Further down in this article, check out the section on how to crouch jump without the key bind. That too will be obsolete when they add vaulting, which is coming in a new patch soon.
There are two ways you can do this, one is in-game (which is by far the easiest), the other way involves manually editing your PUBG config.
Let's take a look..
Crouch Jump In-Game Key Mapping
With default keys,
Go to the secondary column for crouch and click on it.
Press SHIFT + SPACE BAR.
Go to the secondary column of jump and click on it.
Again, press SHIFT + SPACE BAR, but this time don't let go of SHIFT and click in the primary column.
Let go of SHIFT and you should have both keys bound to the same combo.
Finally, click Apply.
Now when you run and jump, your character will automatically crouch jump every time. Makes jumping out of windows a breeze.
Crouch Jump Key Mapping through Game Config
Press Windows Key + R.
Type "%localappdata%\TslGame\Saved\Config\WindowsNoEditor"
Open the file "GameUserSettings.ini" with Notepad.
Ctrl+F "Jump".
After "Keys=((Key=SpaceBar)," add "(Key=SpaceBar,bShift=True),"
Ctrl+F "ToggleCrouch".
After the first comma (,) paste "(Key=SpaceBar,bShift=True)))".
Ctrl+S to Save.
For all of these, of course you just paste the stuff within the quotes only.
Easier version (be careful, this will remove your other custom Jump and Crouch keybinds though):
Select from (ActionName="Jump",Keys all the way to the end of the ToggleCrouch action Keys=((Key=C))) (see screenshot below)
Paste in the following:
(ActionName="Jump",Keys=((Key=SpaceBar),(Key=SpaceBar,bShift=True),(Key=Gamepad_FaceButton_Bottom))),(ActionName="ToggleCrouch",Keys=((Key=C),(Key=SpaceBar,bShift=True)))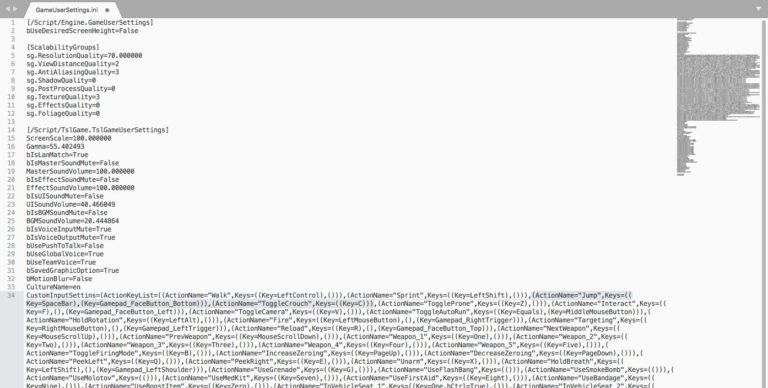 (Optional) If you want to prevent your keybinds being overwritten, you can right-click on the file GameUserSettings.ini, select Properties, and then check "Read Only".
How to Crouch Jump Without the Key Bind
Only way to crouch jump as of Sep 23
Finally, in case you wanna be on the same playing field as everybody else and want to crouch jump without using a shortcut, you can practice crouch jumping like so:
With the default key binds, you press the spacebar with your thumb knuckle, while the tip of your thumb hits the "c" key. (see the picture below)
It takes a little bit of practice, but after a while, you will be able to crouch jump every single time – your muscle memory will kick in and every time you wanna crouch jump you will automatically slide your thumb forwards to hit both the spacebar and the "c" key at the same time.
Hope this helps! Happy windowjumping!